Covid 19 Updates
October 12th, 2021
To help alleviate some of this pressure on NZ Post, I have been asked to do the following:
All Auckland customers
Your orders will be collected on Thursdays only until further notice from NZ Post.
All other NZ customers
Your orders will be shipped from Tuesday/Wednesday/Fridays until further notice.
Any questions or concerns, please email me at admin@meltmyheart.nz
Alexandria
---
September 20, 2021
LEVEL 2 (Auckland LEVEL 3) UPDATE:
Orders are dispatched in the priority of being received!
I have been advised by my Suppliers that orders will start to be shipped tomorrow however they have an immense backlog to get through so it could still be a week or before orders become streamlined once more.
All current orders are being fulfilled and shipped in the priority that they were received. Tracking emails are being sent as I pull your order from the website to be made up and then packaged. There could be a slight delay of a day depending on the size or the order and supplies currently on hand.
My supplies will be arriving over the next few days, with a bit of luck! We got through it! Woo-hoo!!
Your understanding, patience and support have been amazing over the last 4 weeks and I am blessed to have such awesome customers, supporters and cheerleaders behind me!
I cannot wait until I have cleared the backlog and can start functioning at a new normal. 

Alexandria
---
 September 13, 2021
LEVEL 2 (Auckland LEVEL 4) UPDATE:
WE ARE STILL ACCEPTING ONLINE ORDERS!  Orders are being dispatched in the priority of being received!
As of this date.  All orders are being sent as I receive them, unless you have been emailed.  If you are needing your order as a gift, etc.  Please email me at admin@meltmyheart.nz.
All of my Suppliers are in Auckland and are not Essential Businesses (How much I wish this was different, it's out of my hands.) and I am working as hard as I can to source supplies elsewhere in the country, however the wax that I use is only available from Auckland.   Please bear with me as we get through these times, I am working tirelessly on solutions and can only hope that Auckland does come out of level 4 in the next week or so!  I have my fingers crossed.
---
 September 1, 2021
LEVEL 3 UPDATE:
WE ARE STILL ACCEPTING ONLINE ORDERS!  Orders are being dispatched in the priority of being received!
 All orders are being sent as I receive them, unless you have been emailed.  The following products can still only be sent when Auckland goes down to Level 3 and the rest of the Country is in Level 2 or lower.  Unfortunately this is out of my hands and I appreciate all the support you have shown me during these turbulent times.
Mini Teddy Bear  Melts in Jars - Replacement Jars are on their way to me!  They are not the ones listed, however they are square with Gold closure lid and hold the exact same amount of Teddy Bear Melts as our usual Jars.  Our Usual Jars should be back in stock when Auckland is in Level 3 or the Waikato in Level 2.  All outstanding orders will be emailed today with regard to their jars.
Mixology & Sample Heart Boxes - Again, my Supplier has opened up their online orders during level 3, however these boxes are not available as of yet!  This is to be updated over the next few weeks.  If anyone has a PowerPass Card or Trade Credentials who can shop at Bunnings, please feel free to send me a message.
The following two scents are still OUT OF STOCK online:  Starfruit & Citrus and Ginger Lime.
All other products are being sent as soon as humanly possible!  If you haven't received an email from myself advising a delay, be assured the next email will be your tracking email!
Delays in receiving Parcels: As per the following email I received from NZ post this morning.  Please expect for Non Rural Customers delivery delays of up to three working days due to increased safety measures.  For Rural Customers - Four to Five working days!  If you are looking for a parcel and have received the tracking from Melt my Heart, in the first instance please double check your tracking on their website - https://www.nzpost.co.nz/tools/tracking, or contact them directly here - https://www.nzpost.co.nz/contact-support/contact-list.  If you have no luck with either of these options, then please send me an email at admin@meltmyheart.nz and I will see what I can do!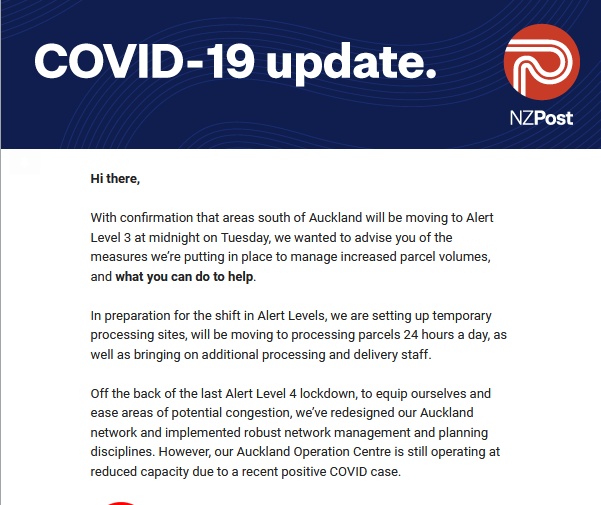 Again, I would like to thank every single one of my customers for your continued support during these turbulent times, you have kept Melt my Heart going and definitely kept me sane.  I truly appreciate every single one of you and I love being able to make your homes smell just as amazing as you all are.
Love & Light,
Alexandria
---
---
August 29, 2021
WE ARE ACCEPTING ONLINE ORDERS, AND DISPATCHING AS WE CAN, WHEN WE CAN! (Orders are being dispatched in the priority of being received.) 
Your overwhelming and continued support means the world to me!  I am working as tirelessly to get your orders to you, and am at the mercy of our level restriction as many of my Suppliers have had to shut down and are unable to send out anything until Level 4 has been lifted.
It definitely goes without saying that amidst this new outbreak, this is just a very stressful and frustrating time.  I don't have any answers, I just make pretty wax melts 😂
Thankfully, I am able to keep working at home which is becoming increasingly harder as my two boys are constantly arguing and fighting amongst themselves.  Being cooped up is definitely affecting us all... 
You will be experiencing delays due to the number of orders being processed and the uncertainty of when we will be able to return to what could be another new normal for us.  And will be receiving email updates about your orders, especially if you've ordered Mini Teddy Bear Melts, Mixology Boxes and our Sample Boxes. Unfortunately, there's no way to guarantee delivery dates at this time. Our couriers are prioritizing essential services before. You'll receive an email confirmation as soon as it's on the way!
Thank you so much to all of you, not just for your loyalty to Melt my Head, but for your extreme patience and understanding of this situation.
Feel free to email or message me if you have any questions and/or concerns.
Alexandria